The smart way to onboard, manage and pay freelance educators
Xolo Teams has simple, effective solutions for cross-border contracting, invoicing and payments. Our platform makes collaborating with freelance teachers and tutors as easy as 1-2-3!
Get started!
Create healthy boundaries between your freelancers and your full-timers
Xolo's freelancer management platform was created for organizations like yours that are growing quickly and need to partner with global freelance talent to meet demand. Getting your independent contractors administered and paid efficiently from a single platform will help you save time while reducing risk of misclassification (and all the expensive consequences that come with it).
A buffer for your borderless business
Things tend to go more smoothly when there's a buffer in-between. And when it comes to working with cross-border educators, Xolo Teams can be your go-to go-between. You and your freelancers each sign an agreement with Xolo's subsidiary, which enables you to access the best freelance talent the world has to offer, while minimizing your risk and your administrative workload.
Supported locations & payouts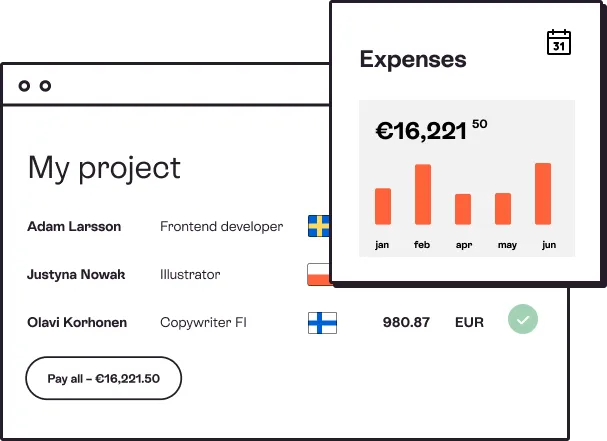 Pay everyone from a single invoice
No more struggling to remember your contractor's bank account numbers or chasing down invoices or stressing over which payment method to use. You pay Xolo and we'll distribute the money to your team of contractors — either individually or through a single bulk invoice. Everyone gets paid the right amount, at the right time.
Xolo Teams was built for…
Fast-growing companies
seeking a better way to manage large rosters of freelancers
Startups
looking to get the most mileage out of their runway capital
Agencies
searching for a flexible, economical way to get those deliverables delivered
XOLO TEAMS
Take a look under the hood
Wondering how we're so confident that we can make it faster, easier, and less risky for you to work with cross-border contractors? We know workforce governance is complex and full transparency is key. Download our e-book and we'll show you exactly how it's done.