Network with other freelancers based in Spain
Being an expat freelancer and building a network can be difficult – but it doesn't need to be. Build a network others envy: friends, mentors or people like you. Build relationships that will change your solopreneur career.
Get work, give work, or find a collaborator
With hundreds of freelancers in the community, opportunities are endless.
For freelancers in Spain
While there are other communities out there, it can be hard to find the right answers if you're in another country. That's why this community is for freelancers based in Spain only.
Community perks
Get early access to content, discounts or product features before we release them.
If you've ever thought,
"I wish I had someone
to ask this to..."
Should I charge this customer more? How do I improve my personal brand? Can I deduct this expense for my quarterly tax report? Get answers to your freelancer burning questions in real-time. Over 11,000 messages sent.
Slack channels tailored to your freelancing needs
#coffee-break
The channel for all informal chit-chat, to keep you company whilst you have your morning coffee. Or your afternoon one. Or even your midnight one (no judging here!).
#contabilidad-for-dummies
Advise, guides and resources on how to best bookkeep your freelance business with Xolo. Ask questions and share your top tips.
#portal-ofertas
Need a hand with your project? Post here your job offers. They have to be quality opportunities and always paid jobs.
#freelance-lifestyle
Share here the very best of your freelance life. Venues, events, afterworks... Good vibes only.
#seguridad-social
Advice, guides, videos and resources about Seguridad Social.
#presume-proyecto
Share here all the projects you are proud of, your new launches or your wins (big or small) and inspire the Xolo community.
#freelancing-tips
Being an "autónomo" is sometimes harder than it should be. How do I chase for payment on my invoices? What's the best way to land new clients? Because sharing is caring, here in this channel you'll be able to share tips and ask questions.
#hacienda-sin-dramas
Sharing taxation resources, we notify you on important dates relating to tax declaration and we answer your questions to ensure you don't have a toxic relationship with Hacienda.
#sugerencias
From Xolo we are working hard to create the best freelance community. It will always be helpful to hear your suggestions and help the community get better and grow.
#conozcamonos
Introduce yourself to the Xolo community and make your first connections!
#general
Everyone is included here! Important announcements, service newness, launches, Xolo news and messages that affect the whole community
Is anyone behind the community?
Although it is an online channel, it isn't run by a bot 🤖. Far from it, we have a moderator / community manager (who is also freelance) named Irene. She is in charge of:
Create the appropriate channels for each topic

Set the rules and moderate

Share content about freelancing, accounting and taxation

Announce Xolo news

Engage conversations and grow the community

Help community members with questions and doubts as they arise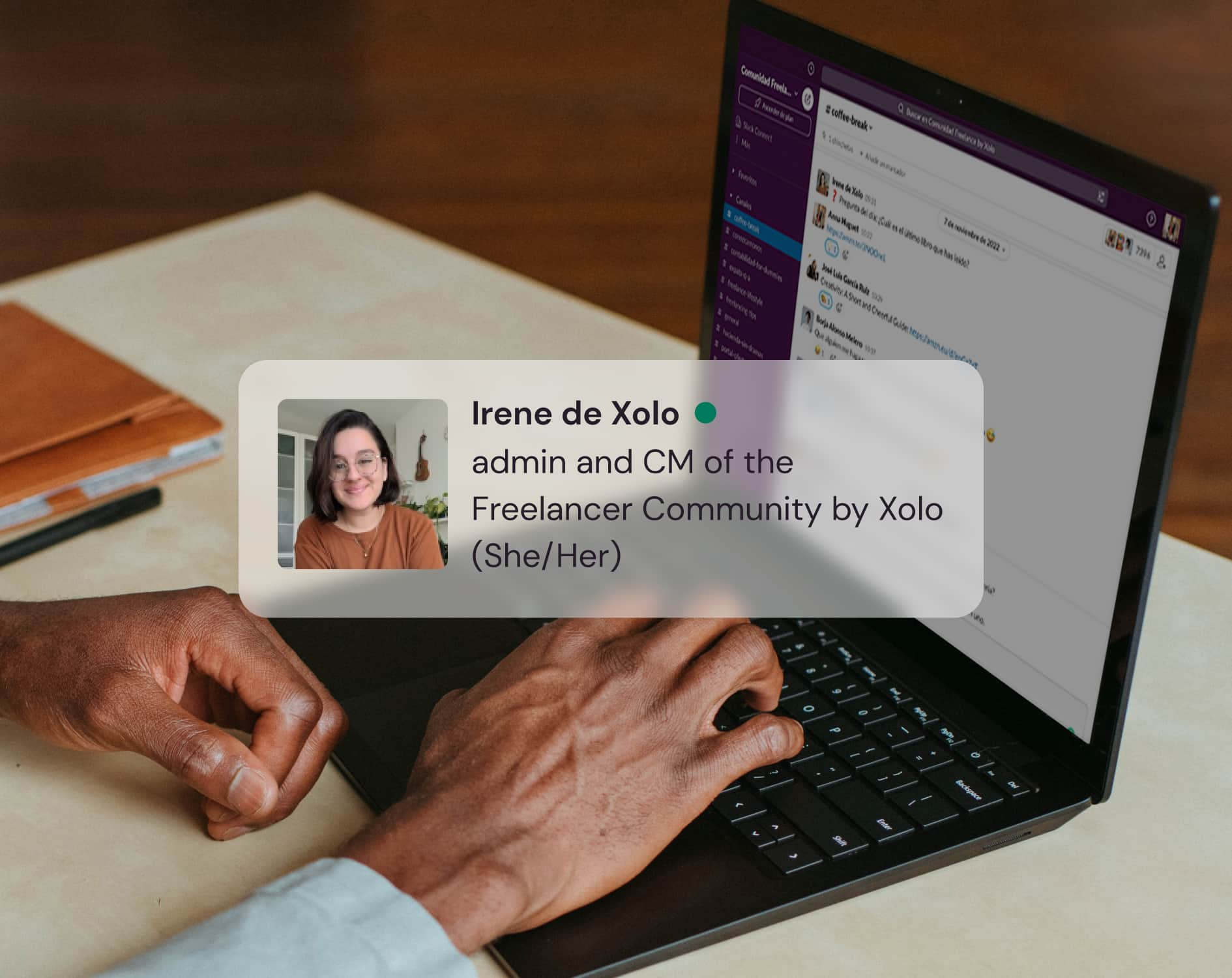 The place where you can find…
A free and open community for solopreneurs

Networking with Spanish and international freelancers

A forum where to exchange ideas and consult with other freelancers

Tax and accounting resources

News about Xolo, our service & exclusive discounts

Tips for managing your freelance projects, your clients, your rates

Sparks of inspiration

Events, afterworks and webinars
Join our Slack community
Invite-only but free! Connect with your fellow fiercely independents today! 🚀